with bare feet touching the sky I yearn, ICA (London), 2022. Photos by Fenia Kotsopoulou.



For much of the last decade, I have worked to deepen my understanding of performance art as a ritual practice - a way of tuning the mind and turning the body towards things often invisible.

Increasingly, I understand my research to exist in continuum with itself, and with the artistic, social, emotional, political and environmental landscapes I walk in.

While particular instances of this queer ritual action are often called by a poetic phrase or name, I am now working with an understanding of 'the practice' as an ongoing expression of my research.




Expressions of this queer ritual action emerge influenced by a host of agents, human and otherwise. Expressions of the work draw on a growing material, physical and poetic vocabulary which I typically call on in a semi-improvisational way.

The deepening and expanding of this vocabulary is one of the pleasures of the maturing practice. Expressions of the work attempt to bring the audience and myself to an edge of experience that is more raw than that of daily life, for at the raw edge of experience we can think and feel differently.


the pink sky reflects the bloody earth, VO Curations, 2019. Photo by Zbigniew Tomasz Kotkiewicz.


Under Scars, Venice International Performance Art Week, 2022. Photo by Lorenza Cini
Photo by Jemima Yong, 2021.


This page contains rememberances - words, photos and videos - of queer ritual actions I have made. Most of these traces have been made by others, including long term collaborators Fenia Kotsopoulou, Baiba Sprance, Marco Beradi and zack mennell. These traces give a sense of the feel of the work and suggest some of the gestures, objects and totems which recur in my performances.

Being with loss is the central preoccupation of my work and there is room within this for kinship, desire, eroticism, and connection.


with bare feet touching the sky I yearn, ICA (London), 2022.
Videography by Baiba Sprance and Marco Beradi.
PSX: 10 Hours, Ugly Duck, 2021. Photos by Fenia Kotsopoulou.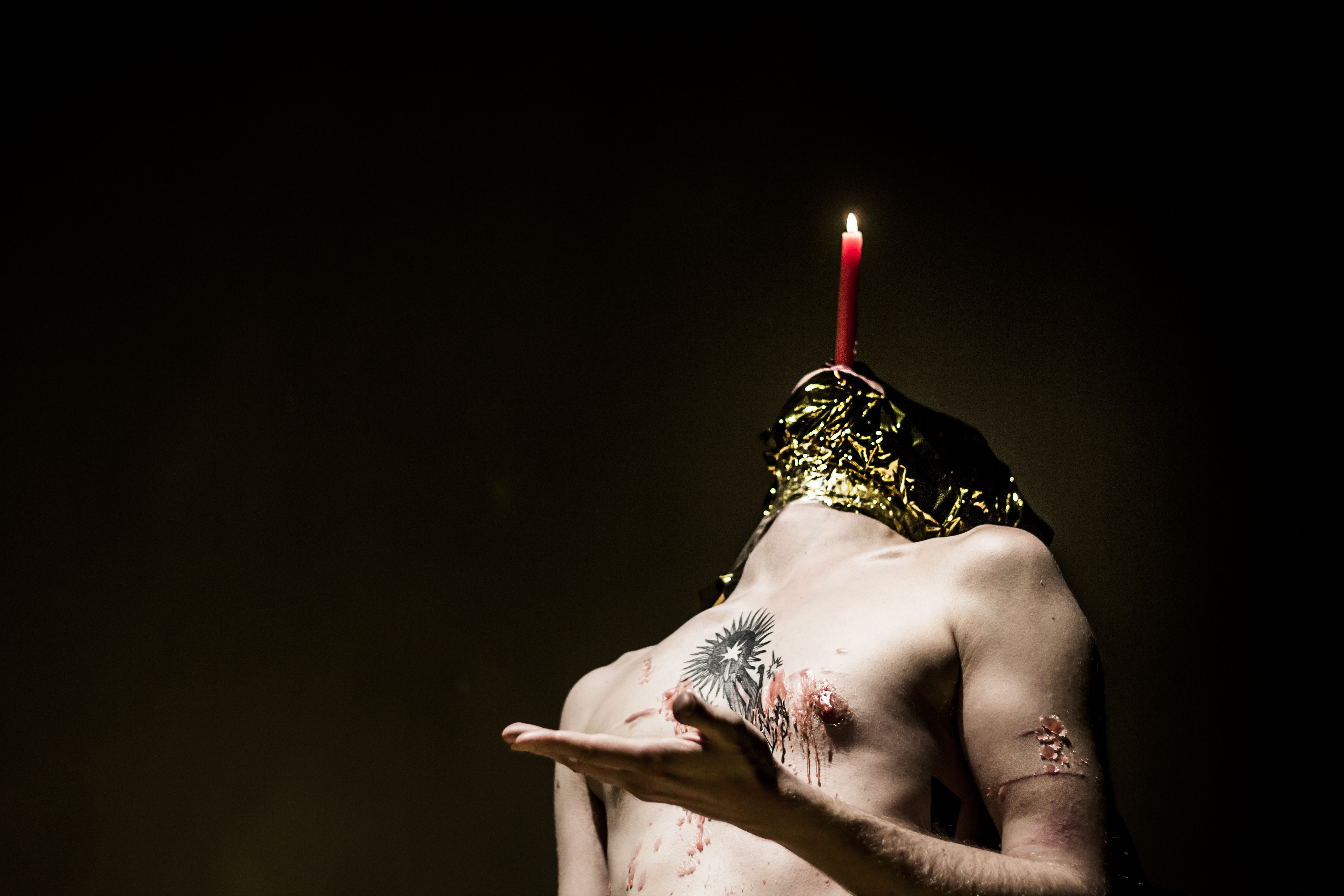 devotion : seduction, Venice International Performance Art Week, 2020. Photos by Fenia Kotsopoulou.

words by Daniella Valz Gen, 2022


Soil
A suspended carcass Ribbon
A metal bucket
A video projection
A spade
Candles
Needles

The scene itself is full of ghosts and expectation.

I wait in the red light and smell the soil,
the hum gets into my spine :
I feel my inner waters vibrate as I look at dry bones.

The sizzle of a blowtorch Smoke, a faint scent of gas

(My eyes burn)
Embers flicker on the tip of a wooden pole

Stone on a metal spade Stone in a mouth,
play


Knocking about knock knock knock

(A call, persistent)

What is this sense of foreboding? Where are we?
What else is there?
Who?

The sound of fire bursts
Black wax drips on Joseph's pale chest

—Tattoos Sigils Lace—

Like the carcass that presides over the space
As if saying: we too are already dead

We are with death
in a tangle of shimmery ribbon

An open mouth pulling on cord

Across space Across time Across life


I feel Joseph's mouth in my spine and my rib cage: pulling at my tendons, my own carcass.

Psychopomp childlike and in black satin, their flesh pierced
as if to say:

I'm here I bleed I'm here

Alive
(I'm here with you)

From blood to clay
From red to fade
A desire to exit
A gesture towards absolute presence and effacement at the same time

The space has been pierced
All that's left is a sad tender holding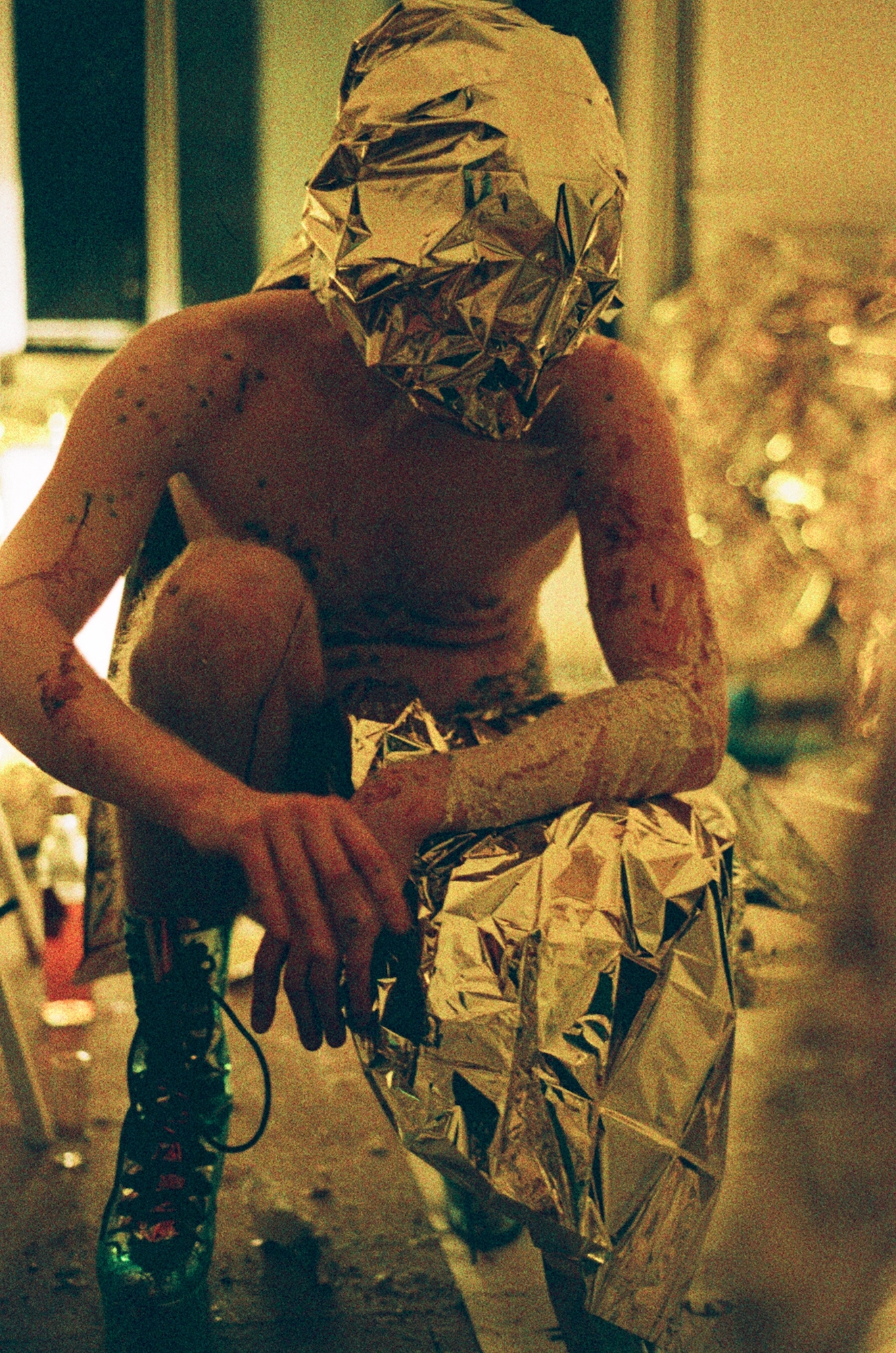 between crisis and stasis I wait, Tactile Bosch, 2019. Photos by zack mennell.
these teeming forms, VSSL Studio, 2021. Photo by zack mennell.